Analysis
As China has transitioned into the 21st century, the SOE system has shrunk some since the days of total party control over the economy, but it still plays a major role in the way that China's economy operates. While the overall size of SOEs compared to the economy as a whole has been shrinking, there have still been new SOEs being started by Party members. Many of these are in industries which are not important to the CCP, such as hotels, restaurants, and shopping malls. The reason why these exist is because "the temptations to branch out have been too great" as SOEs have received "cheaper financing from state-owned banks", "favoritism from local governments" and "a lighter touch from regulators" (The Economist). Thus, starting an SOE in a non-strategic industry is a decent way for a Party member to make some extra money on the side. However, in recent years, the CCP has shown a willingness to divest some of its interests in non-critical industries. For example, many of these smaller SOEs are "more accessible to private investors since they are concentrated in non-strategic sectors" (The Economist).
As the graph above shows, SOEs in China have always performed worse than privately run companies. Opening up some SOEs to more private investment is an important first step if the CCP does want to truly reform China's economy.
On the other hand, there are some SOEs which the CCP will likely never give up. These are the SOEs concentrated in strategic sectors: banking, mining, petroleum, etc. The CCP wants to remain in control of the economy, and the best way for them to do this is to retain control over some of the most important sectors of the economy. Although these SOEs are generally better-performing than their counterparts in non-strategic sectors, they still "gobble up a huge share of bank loans" (Guilford), which makes it more difficult for small start-ups in China to get the capital that they need. Even though these SOEs are not necessarily in danger of failing, they still have a non-negligible impact on the Chinese economy. Another reason why the CCP will likely not give up these SOEs is because of who benefits from continued ownership of these SOEs. While private companies in China would certainly benefit from the CCP selling off some of the SOEs, the CCP will always do what benefits the Party the most. Ultimately, the largest problem with China's state-owned sector is that the SOEs "always defer to the desires of the Communist Party before market considerations" (Cendrowski). Because of this, Chinese SOEs will never follow the markets in their decisions, but rather will always reflect the will of the CCP.
So, to see whether these strategic sector SOEs will have an adverse effect on the Chinese economy, one can compare the performance of Chinese SOEs versus non state-owned companies around the world.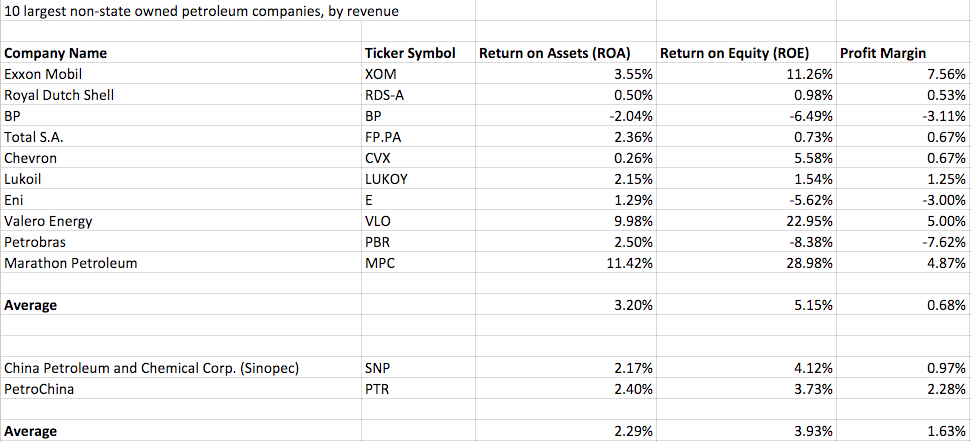 This spreadsheet compares the performance of the 10 largest non state-owned petroleum companies to the two major petroleum SOEs in China, PetroChina and Sinopec. The three metrics being used compare slightly different parts of a company's profitability: return on assets, or ROA, shows effectively how much money a company is making as a percentage of its total assets. This is lower for the Chinese companies because they are so large that their capacity for production has outpaced demand, and so, while they may have the same net income as a non state-owned corporation, they may have extra assets which are just sitting idle, and so this lower ROA shows that the SOEs are less efficient than non state-owned companies. ROE, or return on equity, is another metric that compares the performance of different companies, and it is how much money a company makes as a percentage of its equity, which is defined as assets minus liabilities. While the liabilities of SOEs are typically lower than non state-owned companies due to their ability to borrow money more cheaply, their ROEs are still lower because of how high their assets are compared to other companies. This metric again shows the inefficiency of SOEs compared to non state-owned companies. The final statistic is profit margin, which is net income divided by revenue, and so it effectively measures how much money a company makes as a ratio of how much money it brought in. The SOEs actually perform better in this category, largely due again to their ability to borrow cheaply from state-run banks. Since they are having to pay less in interest, their net income is higher, which gives the SOEs better profit margins.